Following the U.S. Supreme Court decision in National Collegiate Athletic Association (NCAA) v. Alston, et. al. (June 21, 2021) the world of college recruiting changed dramatically when on July 1, 2021, the NCAA enacted a rule to allow college athletes to profit from their names, images and likenesses.
Immediately, college-athletes (also applies to High-School athletes) who previously had been restricted to receiving stipends and scholarships suddenly could sign endorsement deals. The floodgates opened, with athletes of all stripes signing quickly.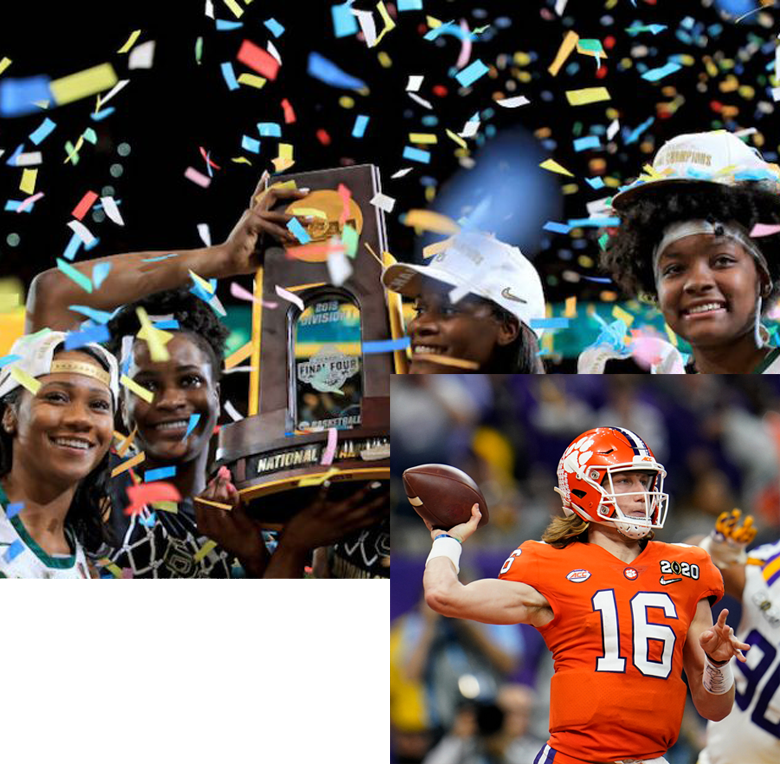 ---
WHAT IS
NIL?
---
NIL stands for Name, Image, and Likeness. The definition of NIL is simple: It is the possibility of compensation paid to NCAA student-athletes to promote, partner, or represent brands. In an NIL deal, the Student Athlete essentially "licenses" his right to "publicity" to the company that pays out the Sponsorship Fee.
The mutually beneficial relationship is built on the athlete's fame. Previously, NCAA athletes were forbidden to profit from their celebrity and fame.
---
STATE AND SCHOOL RULES
AROUND NIL VARY
While the Supreme Court and NCAA passed Name, Image, and Likeness rules, schools still have their own rules and regulations surrounding NIL.
One of the most important hurdles for student-athletes now is to use these guidelines properly. Athletes must understand how the State they play in or school they attend may affect the way they can utilize  NIL rules. Rules on school logo restrictions, what products may or may not be sponsored, as well as other guidelines, differ from state and school. Athletes are also expected to inform universities of NIL deals and contracts they decide to engage in.
Here are some examples of signings that have been reported recently:
Bryce Young, Alabama football / NIL deal: $800,000 (or more)
The Crimson Tide quarterback signed with Cash App and also did deals with trading card companies Leaf, Wild Card and Onyx — before he ever started a game for Alabama.
The risk to those companies certainly paid off when Young went on to win the Heisman Trophy and take Alabama to the national championship game.
Olivia Dunne, LSU gymnastics / NIL deal: More than $1 million
The NCAA gymnast signed with activewear brand Vuori. She will bring her huge social media presence (more than 5.7 million followers) and make appearances on behalf of the clothing company.
Caitlin Clark, Iowa, and Zia Cooke, South Carolina / NIL deal: No details revealed  
                      The two women's college basketball stars signed a deal with tax preparer H&R Block. They will promote the firm's services through videos on their social media channels. It's unclear just how much the two basketball players will make, but H&R Block has said it is devoting $1 million to the entire program
Unnamed college football recruit from Class of 2023 / NIL deal: $8 million
An unnamed high school college football player has signed a deal that could pay him up to $8 million, The Athletic reported March 12. The contract reportedly will pay $350,000 right away, with escalating payments that will total $2 million per year. The deal is the largest NIL deal ever signed by a non-professional athlete, The Athletic reported, citing two unnamed experts.
STATES WITH NIL RIGHTS
FOR HIGH SCHOOL ATHLETES
When the NCAA lifted its regulations on NIL in 2021, one of the main conversation points was what does this mean for high school athletes? For the California Interscholastic Federation, this did not change anything. The federation had been allowing its players to profit since 2004, mostly because of the role of the entertainment industry in the state.
The new era of college sports did mean something, however, for the CIF and other high school associations. Their athletes were now able to turn a profit, if allowed, and not put their amateur status at risk with the NCAA. Some high school associations realized quickly after July 1, 2021, that their handbooks' language was out-of-date with the role of social media developments.
Here is a list of states that under current regulations allow the athletes to monetize their NIL rights:
Alaska

California

Colorado

Connecticut

Kansas

Louisiana

Maine

Minnesota

Nebraska

New Jersey

New York

North Dakota

Utah
The the number of high school athletes able to monetize their NIL is substantially less than the NCAA may have anticipated.
Nike recently signed its first high school NIL deal, inking Harvard-Westlake (Los Angeles) soccer players and sisters, Alyssa and Gisele Thompson, to a multi-year agreement. Five-star basketball prospect Mikey Williams took advantage of NIL from the beginning and signed on with PUMA last fall.
Hansel Emmanuel, the one-armed basketball star, has signed on with Gatorade.
Johnuel Flands and Ian Jackson became the first high school athletes in New York City history to sign NIL deals. The pair of four-star prospects signed with the emerging social media platform Spreadshop.
In early April 2022, New Orleans wrestler Richie Clementi inked a reported four-figure partnership with Friendly Powersports Slidell. The deal was the first to be brokered with a high school student-athlete in Louisiana history.
LSU women's basketball commit Flau'Jae Johnson, the daughter of the late rapper Camouflage, is featured in the second season of TOGETHXR's FENOM documentary series.
Quinn Ewers demonstrated how some high school athletes aren't afraid to leave school early to cash in. He enrolled at Ohio State a year early to land a deal with GT Sports Marketing worth $1.4 million because the state of Texas did not allow high school players to be compensated for NIL deals. Ewers transferred and now is in the middle of a starting quarterback competition at Texas.